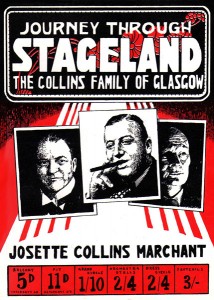 This website is based on the book "Journey through Stageland" – The Collins Family of Glasgow', written by Josette (Collins) Marchant with assistance from her brother Randle Collins.
The website and its imagery have been compiled by Randle Collins' son, Ross Collins, who is a children's book author and illustrator: www.rosscollins.net
Thanks are due to Josette's husband, Tom Marchant for his kind help in film archiving.
Thanks to the many website owners and individual collectors who have contributed imagery for this site.
This website has been privately funded. For their generous donations thanks must go to Tom and Josette Marchant. Also to Randle, Elizabeth, Melanie and Judy Collins and to Jacqui Solomons.
Thanks also to Patricia de Vries web enthusiast and website designer for all her hard work in building this site. Visit her at defreeze.net