After the war, Horace at times aided by his brother Pete, set about entertaining a new breed of audience. Gone was the 'live for today' attitude of wartime as a new austerity set in.
Things continued to prosper, but there was increasing tension between the brothers with Pete wanting more scope and Horace being rather loath to grant it. Pete, like his father before him was a showman rather than a business man like Horace who distrusted his monetary acumen. Horace had good reason for his attitude as is illustrated, for instance, when he dispatched Pete to London to sign up a principal for the forthcoming Glasgow Pavilion pantomime at a salary of £17.10s.0d. Instead, the bold Pete arrived back having signed up a Mexican film actress called Movita, who incidentally later married Marlon Brando, at a salary of £85. Not unnaturally, Movita meant nothing to the Glasgow booking office so £1,000 was instantly lopped off the seasons profit – a lot of money in the 1940's. Eventually the brothers decided they simply were incompatible as partners and although they remained on brotherly terms, Horace bought Pete out – lock, stock and barrel.
Would You Believe It 17th Year courtesy of Don Stacey & King Pole magazine of the Circus friends association
Would You Believe It at Bradford's Alhambra 1949 courtesy of Don Stacey & King Pole magazine of the Circus friends association
Would You Believe It at Blackpool's Palace Theatre 1949 courtesy of Don Stacey & King Pole magazine of the Circus friends association
Pete moved to London and established his own Theatrical Agency. Since putting together the Collins' Agencies first revue of human oddities in Aberdeen, Pete had always had a taste for the unusual and so began his new career. He reformed the "Would You Believe It?" show, once again with Lofty and Seppitoni but now also featuring acts such as 'The Human Aquarium' who could regurgitate fish and frogs and 'The Human Gasometer' who after inhaling gas could then breathe it out, light it and cook an omelette on the flames! The show toured for two years to great success.
In 1949 Pete launched a new revue which featured a wrestling lion, an armless wonder who painted with his feet and a mechanical man. The content changed depending on the scale of the venue and the title changed too to "Well I Never!" and "You'll Never Believe It!".
Another show of Pete's was titled "Hold Your Breath!" featuring a giant tank of water in which frogmen displayed their talents and an "Aqua Revuette" featuring a "Striptease Mermaid"! This show also toured successfully abroad under many different names.
Another of Pete's imaginative ventures was a "Jungle Fantasy" featuring a tribe of "Genuine African Warriors" who were actually students recruited from the pubs in London's Tottenham Court Road!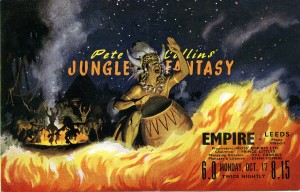 As the theatre business declined in the UK Pete headed to the USA in 1954 where he toured with another giant, Ted Evans in baseball stadiums and racetracks supporting many big names of the age. While in the states Pete realised the potential of television and founded his own TV production company on his return to the UK, producing shows based on his old novelty revues.
Itchy feet once again took Pete abroad, finally to South Africa where he produced radio and television shows. Among these shows was "The Southern Sky", based on the BBC's "The Sky at Night". Both shows were presented by the legendary British astronomer Patrick Moore with whom Pete became good friends and published the book "The Astronomy of Southern Africa".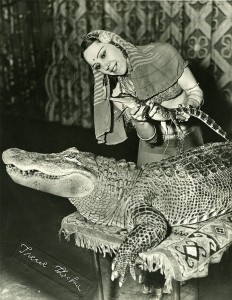 Pete Collins was probably the UK's most successful producer of human oddity shows and the last of his breed. In his long and fascinating career he worked with such amazing acts as: The world's tallest man and shortest man, the world's tallest woman, a man who played his head like an xylophone, a tame lioness, human robots, an educated pig, a one legged dancer, the woman with ten brains, sword swallowers, a woman who produced 'paintings' on a typewriter, flea circuses, a crocodile hypnotist, a man who lived in a bottle for a year, an armless pianist and Heinrich the counting toad to name but a few.
Many of Pete's tall tales and stories of the fascinating individuals he represented can be read in his very entertaining book "No People like Show People".
Pete Collins died in South Africa in 1980 leaving a widow, Moya and three daughters.